Curriculum: Core Courses
Merit Academy's high school gives students an unparalleled foundation to prepare for the rigors of even the most selective universities. Merit graduates have been accepted and matriculated to Stanford, Harvard, Yale, Brown, UCLA, UC Berkeley, and other prestigious colleges. The level of preparation exceeds that of college prep courses at public high schools. Throughout their high school experience, students not only build a robust academic foundation that spans the academic disciplines, but they are also challenged to strive for excellence.

At Merit, we always build the educational experience around the student. Students who need time to adjust to the high standards can opt to take general education courses until they are ready to excel in Merit's honors courses or courses offered through local colleges and universities. If students have special interests or want to learn about subjects that aren't normally taught, we can design courses that fit their needs.
English
American Literature: Honors
Asian/Non-Fiction/Women in Literature: Honors
English 1 A-C : Honors
English 2 A-C: Honors
English 3 A-C: Honors
English 4 A-C: Honors
English Composition & Journalism: Honors
World Literature: Honors
Writing for the Sciences, Scholarships, Autobiography: Honors
Language
Introduction to Spanish 1 A-C: Honors
Spanish 2 A-C: Honors
Spanish 3 A-C: Honors
Spanish 4 A-C: Honors
American Sign Language (ASL)
Introduction to Mandarin 1 A-C: Honors
Mandarin 2 A-C: Honors
Mandarin 3 A-C: Honors
Mandarin 4 A-C: Honors
Introduction to French 1 A-C: Honors
French 2 A-C: Honors
French 3 A-C: Honors
French 4 A-C: Honors
Introduction to Hebrew 1 A-C: Honors
Hebrew 2 A-C: Honors
Laboratory Science
Chemistry: Honors
Biology: Honors
Introduction to Biology: Honors
Introduction to Chemistry: Honors
Introduction to Physics: Honors
Physics: Honors
History
Civics, Inner Self, & Interpersonal Relationships in Literature: Honors
Civics, Psychology, World Religions & Cults: Honors
Micro/Macro Economics & Global Issues: Honors
United States History 1 A-C: Honors
United States History 2 A-C: Honors
World History 1 A-C: Honors
World History 2 A-C: Honors
Mathematics
Algebra 1 A-C: Honors
Algebra 2/Trigonometry: Honors
Pre-Calculus: Honors
Calculus 1 A-C: Honors
Calculus 2 A-C: Honors
Geometry/Algebra 2: Honors
Other
Comprehensive Driver's Education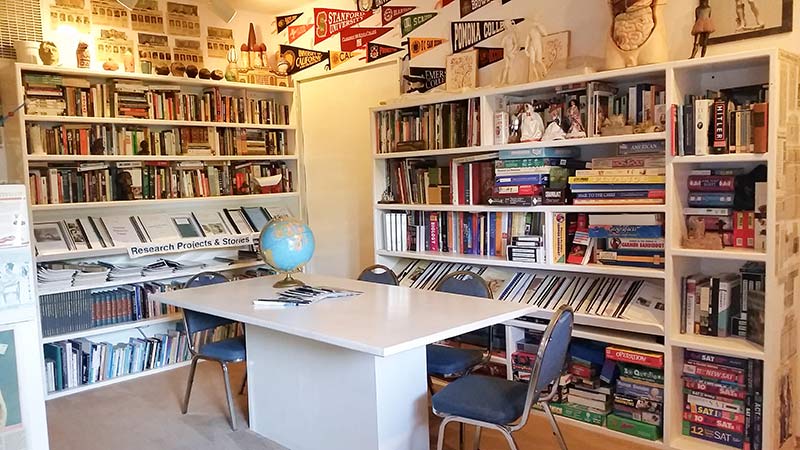 AP Courses
| | |
| --- | --- |
| | AP Art History |
| | AP United States History |
| | AP European History |
| | AP World History |
| | AP English Literature and Comprehension |
| | AP English Language and Composition |
| | AP Calculus AB |
| | AP Calculus BC |
| | AP Computer Science A |
| | AP Statistics |
| | AP Biology |
| | AP Chemistry |
| | AP Physics 1 |
| | AP Physics 2 |
| | AP Chinese Language and Culture |
| | AP French Language and Culture |
| | AP Spanish Language and Culture |
Electives
| | |
| --- | --- |
| | Introduction to Psychology |
| | Automotive Technology |
| | Electric vs Internal Combustion Motors |
| | Build Your Own Electrolyzer: Make Your Own Energy |
| | Aquaponics |
| | Permaculture |
| | Introduction to Computer Programming |
| | Building Android Apps |
| | Building iDevice Apps |
| | C++ Programming |
| | Web Design and Architecture |
| | Introduction to MySQL and PHP |
| | Introduction to Ruby |
| | Introduction to Python |
| | Introduction to Perl |
| | CAD/CAM Design |
| | CNC and 3D Printing |
| | Microcontrollers and Circuit Board Design |